Cartoon Gravity No.1
NEWSLETTER: High tide, "Who Is Aldrich Kemp?", Arc Studio, writing apps, "Temporal"
We're live, I think. After some jiggery-pokery with domain names and DNS settings etc (no, it turns out I don't really understand those things either), the official website at cartoongravity.com is up and running and this newsletter should be coming out of there directly to you. For those who care about such things, Cartoon Gravity is built on Ghost.org, which is a paid service which I happen to find easier to handle than Wordpress or any of the other equivalents that I've tried. And by "easier to handle" I mean that their support people are super efficient and have got it all working for me while I ate biscuits.
So, here we are on Cartoon Gravity No.1. And this is coming to you from a very pleasant table at the Riverside Tearoom in Orford, Suffolk. Usually the view from here looks out across the boats on the beach, to the river and then out to Orford Ness beyond. Today, however, we've had one of the highest tides in years (Americans call these "king tides") and the water has risen high enough to submerge the quay, float all the boats and is currently underneath the tearoom itself, the ramp up to the door being half-underwater. It's equal part awesome and scary. I understand that this is a freak tide, but rising sea levels will make these more and more frequent.
Here's a kind of before and after: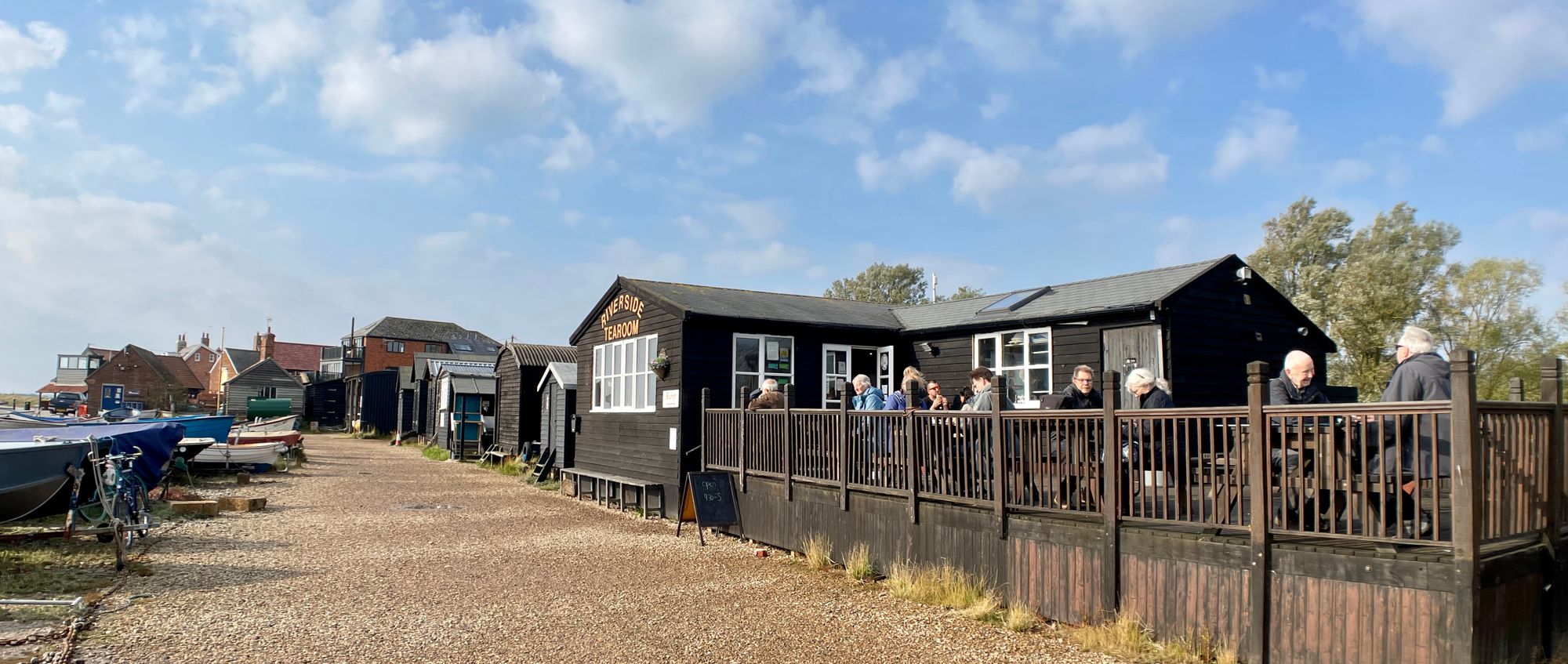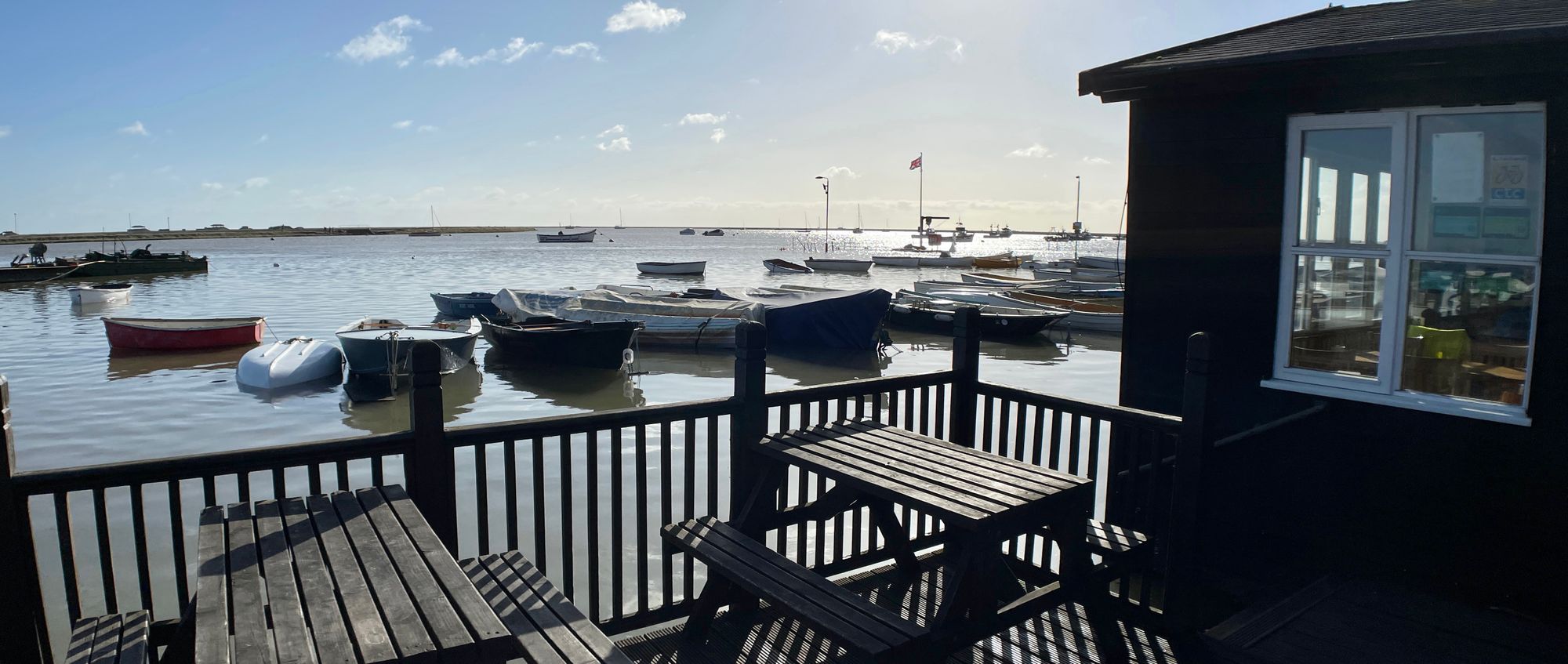 And what am I doing in Suffolk? Well, this week has been a bit of an experiment. Faced with deadlines that seemed to be ganging up on me and the usual distractions of life in nearly-but-not-quite-post-Covid London, I thought I'd run away to the countryside to be alone with my thoughts and get some stuff done. I've rented a brilliant cottage in the village and have spent the past few days walking, taking photographs and getting a good amount of reading and writing done.
Much of that writing is, unusually, something I can actually talk a bit about. "Who Is Aldrich Kemp?" is a five-part drama for Radio Four. It only got commissioned quite recently and we're scheduled to record it at the beginning of December, so there's some writing to be done in the meantime.
Writing in a rush can be enormously liberating. A bit like improv; without time to second guess yourself, you have to just pick an idea and run with it, hoping to make it work as you go. This idea behind "Who Is Aldrich Kemp?" is firmly within my wheelhouse - it's a contemporary spin on sixties spy-fi shows like The Avengers, The Prisoner, Department S etc, so it's a really fun sandbox to play in.
The REALLY eagle-eyed (eagle-eared?) might recognise the name Aldrich Kemp from one of the bonus pieces on the last series of the Lovecraft Investigations. Kennedy Fisher, introducing her excised account of The Somerton Man Mystery, says "I'm in a rental apartment in Amsterdam. And I'm here because I'm looking for someone, a man named Aldrich Kemp". Well, now we get to find out who Aldrich Kemp is. And we get to meet Clara Page, an incredibly capable research analyst for the intelligence service. Clara is tasked to find the elusive Aldrich Kemp, who is the head of a criminal syndicate called The Themis Group. Aldrich's rag-tag gang of associates includes efficient housekeeper/deadly assassin Mrs Boone and the delightfully dotty Aunt Lily, who may or may not have given Blofeld a run for his money back in the day. The action moves from London to Amsterdam, Berlin, Paris, Vienna, Talinn, the Alps, Albania, Casablanca and, believe it or not, Eastbourne.
This is a ton of fun to write, but I suspect I would be having a harder time with it if I wasn't doing it in a rush. Every time I've hit a story block, I've had to smash through it quickly and some of the solutions I've landed on have led to places that I would never have got to if I'd had more time to consider the journey.
I don't think this always works. As I say, I'm mostly in my comfort zone with this world. It's a secret agent universe that I've been playing in for a few projects now, intersecting with the Pleasant Green universe of the Lovecraft Investigations and the bulk of my radio plays. So I know the worlds and I know the rules, and the decisions I'm taking still observe certain parameters that at least make sense to me. If it was a completely blank canvas, it would probably be very easy to go off the rails.
I'm being aided in this endeavour by Arc Studio, which is a new screenwriting app that I have absolutely fallen in love with. It's not perfect, and it can get a little glitchy at times, but the team behind it are super-responsive and they are updating features constantly.
There are two things I really about Arc Studio. The first is that it is genuinely cross-platform; I can write on my Mac, on my iPad or on my phone without any notable change in user experience, and the syncing of scripts is handled in the background and is instantaneous - no more manually syncing with Dropbox or worrying that you're amending the wrong version of a script.
The second killer feature for me is that Arc Studio saves all drafts within the same document, and allows you to choose which one you're comparing against for revision marking. So say, for example, that you send a draft of your script to Dave and then you carry on working and then you send a later draft to Jane. When they come back with their thoughts, you can then do changes  and put out a version that shows Dave everything that's changed since he read it and Jane everything that's changed since she read it. You also have all of those different drafts at your fingertips so you can check between versions whenever you want. This might sound like a niche feature, but I've been using it recently, sending TV scripts out to a studio and a network, and it has been invaluable to keep track of who has seen what.
I'll probably dive into Arc Studio properly on the Cartoon Gravity website. They're about to release a showrunners' edition, which I've been beta testing, so I might write about that when the time comes. For now, though, if you're a screenwriter, you should definitely check out the app.
Whenever there is a frantic need to get a story down, I find myself reaching for a variety of different ways to visualise the plotting and the characters from different angles. On "Who Is Aldrich Kemp?", I have been using a trusty pen and paper (obviously) but I've also really enjoyed Workflowy and iThoughts, which I find hugely superior to MindNode.
I've also been using Craft for all my notes and world-building for a while now. I've tried Obsidian and Roam and all those others but I always come back to Craft because it's just BETTER. If I want to hit a blank page and see what happens, I'll open up IA Writer and then send the resulting text into Craft when I'm done. To keep me on schedule, I have been finding TickTick invaluable. This was not an app I took to the first few times I tried it out, but I've dug into it a lot more over the past few months and I feel like I've got the hang of how to work with it now.
Swerving away from the gear porn, I have another kind-of announcement to make. Over the past few months, my company Storypunk (no link yet because guess who is supposed to have got that website up and running but hasn't) has been working on a new podcast called Temporal. I may have mentioned this on the Infodump newsletter a while back, but it is now in the final mixing stages and it sounds AMAZING. This is the first fiction podcast to be recorded in native binaural (although we did nerd out and use a 1940s mono microphone here and there) and mixed in Dolby Atmos. The result is stunning, thanks to audio maestro David Thomas. Temporal is a time-travelling sci-fi adventure story with some surprising moments of depth and soulfulness. You'll be the first to know when it's available to listen to.
That's it from me for now. I'm excited by Cartoon Gravity and I hope this letter is a good start. Keep an eye on the website, I'll be dropping bits and pieces on there and I THINK I've found a way for them not to all avalanche into your inboxes.
In the meantime, stay safe, wear a mask even though no one is making you, and enjoy the Autumn, for 'tis the best of the seasons.
>>>>>MESSAGE ENDS